Gloucester's new sewer system coping well: Severn Trent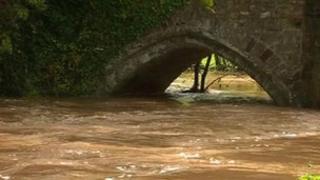 Flood alleviation measures developed recently in Gloucester are coping well with the latest heavy rain, water firm Severn Trent says.
The company has spent £15m improving its sewage infrastructure in the city over the past two years.
Severn Trent's Frank Thompson said: "It's really pleasing that it's worked so well over these last few weeks."
Elsewhere in the county, the River Severn is expected to reach its peak later and flood alerts still remain.
'More capacity'
The recent work to improve the sewage water infrastructure in and around Gloucester forms part of a five-year £60m investment by the company.
Sewer capacity in Gloucester city centre has been increased, drainage improved and pumping stations have been upgraded.
The company installed a new 1.4km-long sewer, which runs underground beneath Kingsholm to Westgate Car Park.
Mr Thompson said: "That gives us much more capacity in our sewage network to be able to cope with times like this when we are getting a lot of high flows."
Following the recent heavy rain over the past several days, the River Severn in Gloucestershire is expected to reach its peak later.
An Environment Agency spokesman said the expected rise in river levels for Tewkesbury was normal and "not unusual".
He said the area had experienced similar water levels nine times in the past five years and the current situation was nothing like the flooding of 2007.
Road collapsed
The spokesman added that river levels should subside but said people should "still be prepared for any changes".
Three flood warnings are still in place on the Severn, affecting Deerhurst, Apperley and Ashleworth, and many roads still have standing water on them.
Flood alerts are also in place for the rivers Wye and Leadon in the county as well as the Severn around Tewkesbury.
Gloucestershire County Council said some roads had been closed on Tuesday, including one lane of Flaxley Road in Cinderford which was shut after the surface collapsed.
The Met Office has predicted overcast conditions in the morning to be replaced by sunny spells later. It says more rain is forecast for Thursday and Friday.