Stephen Morris reviews The Roving Crows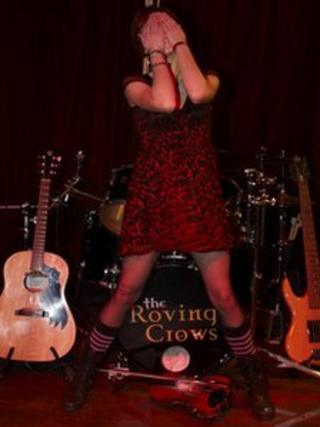 The clue is in the name, of course.
You might expect an Irish band - especially an Irish band who have recently been awarded the gongs of 'Top Fiddle Player' and 'Top Celtic Rock Band' by the Irish Music Association - to name their debut record with some suitably Gaelic word.
But no. Not a bit of it.
The Roving Crows have, instead, opted to christen their first outing 'Bacchanalia', derived, as any student of the Classics knows, from the name of Roman god Bacchus, deity of wine, festivities and generally having a good time.
And so this particular murder of crows have précised something of both their style and substance in a single word.
On this record, The Roving Crows will focus their efforts on having a good time (and making sure we, the listeners, have a good time too).
And they will do this while looking beyond their default setting of Irish folk music.
The good times are there for all to hear: from the opening salvo of 'Long Time Dead' (don't let the morbid sounding title deceive you) through to the grand finale of 'More Than One'.
The former starts with a plea to make the most of life while you're living it, before escalating into a bit of Baloo-style scatting straight out of The Jungle Book.
Meanwhile, the latter tops the album off with a call for altruism by making other people's lives better.
Sandwiched between these two celebratory tunes, the mood is similarly upbeat.
'Woman After My Own Heart' is sung from the point of view of a loveable rogue trying out his charms on the woman of the title while 'Dirty Habits' takes the theme of 'Bacchanalia' straight to heart - and then some - with tales of "tearing up the town" with Brother Sylvester (with eye watering results).
And then, of course, there are a couple of instrumentals profiling Caitlin Barrett's award-winning fiddling in the form of the excellent 'White Petticoat' and 'President Garfield's Night Out'.
Bacchanalia's international scope is wide ranging, thanks in no little part to Gregg Wilson-Copp's presence on the trumpet.
'Days In The Sun' hint at an Arabic dustiness while 'More Than One' has more of a Hebrew sensibility to it, ratcheting up the speed as it rattles along.
Elsewhere, 'Love Is The Finest Thing' has a fantastic ska feel to it, nodding as much to Jamaica as the likes of The Specials and Madness who purloined the offbeat sounds for their own purposes.
And then there's 'That Was Then' with its allusions to The Beatles' 'Octopus' Garden'.
It is not, of course, an uninterrupted party.
Most notably 'Brother' is a subdued affair with Caitlin Barrett taking to the vocals in a song about a brother who has recently passed away.
Amidst all the hedonism and bonhomie, simple lyrics like "I feel you left too soon" hit home with added poignancy.
And it is jolts like this that add to the urgency of lyrics like "never bother looking back/the future lies ahead/life is sweet and very short/and we're a long time dead" elsewhere on the album.
Bacchanalia is a perfectly formed album: a good natured record as much about peace, love and understanding as it is about getting hideously drunk, acquiring some interesting piercings and nursing the mother of all hangovers.
The Irish Music Association got it just right. The Roving Crows are the 'Top Celtic Rock Band'.