Diamond Jubilee: Lampreys for special Gloucester pie handed over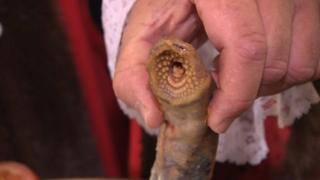 The main ingredient in a traditional pie that has been presented to the reigning monarch for centuries has been handed over to the city of Gloucester.
The city has sent a lamprey pie to the monarch each Christmas in a tradition dating back to the Middle Ages.
Chefs wanted to make a pie for the Queen's Diamond Jubilee in June, but the eel-like creatures are a protected species in the River Severn.
They have been brought over from Canada where they are considered a pest.
'Quite thrilling'
The custom of presenting the monarch with a lamprey pie at Christmas died out in the 19th Century, but Gloucester still prepares one on special occasions.
Dr Marc Gaden, from the Great Lakes Fishery Commission, officially presented the sea lampreys to the city council on Friday.
He said: "Your King Henry I died from eating a surfeit of lamprey, we have a surfeit of lamprey in the Great Lakes.
"When you look at what the city goes through to make this pie, whether it's a coronation or a jubilee, you can't help but be impressed at making that gesture to the monarch like that, especially for a species that has the history and tradition like the lamprey does.
"It's a fascinating tradition and just being a very small part of the Queen's Jubilee is something that is quite thrilling to us, even over in North America."
Parasitic sea lampreys feed on others' blood, attaching to the skin with a suction cup-like mouth.
River lampreys also feed on the sides of fish like herring and sprat.
King Henry I died in 1135, reportedly from eating a "surfeit of lampreys".