Cheltenham gas blast: Demolition of homes begins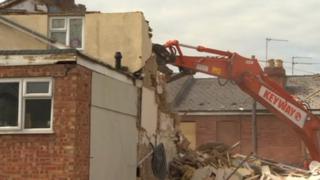 Demolition work has started on two houses that were damaged in a gas explosion in Cheltenham last week.
The two properties either side of the house that blew up on Rosehill Street are being pulled down in an operation expected to take up to three weeks.
Wales and West Utilities secured gas supplies ahead of the work.
Gloucestershire Highways helped to ensure the road was clear of cars so that demolition equipment could be brought in.
A spokesman for Wales and West Utilities said: "As soon as the site is structurally safe we will carry out a thorough investigation, as is standard practice after an incident of this nature."
Betty Hodgkiss, 81, whose house was destroyed in the blast, is still recovering in hospital.
Emergency services were called to the terraced house, near Sandford Lido, last Thursday evening.
Vance Babbage, of B&M Babbage, which is carrying out the work, said the properties adjoining those either side of the blast house had been made safe so the demolition could go ahead.
"Once the buildings are down and in a safe condition, site clearance can go ahead," he said.
"Then it is up to the insurance companies to take charge. New homes will have to fit into the surroundings, so will have to go through planning and building control then be put out to tender."
Iain Houston, building control manager at Cheltenham Borough Council, said: "We will continue to provide support for the residents affected at this difficult time."