Nursing wild boar sow killed by poachers in Forest of Dean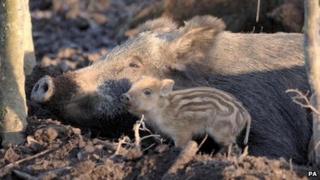 A wild boar has been killed by poachers, leaving its nine piglets alone and facing the possibility of death by starvation.
The nursing sow was discovered at Cannop crossroads in the Forest of Dean on Saturday morning. Its hind quarter had been cut off and taken away.
Authorities believe the animal had been semi-tamed by people feeding it, which helped the poachers get close.
The public is being warned of the dangers of feeding wild animals.
The warning has been issued by Gloucestershire Police and the Forestry Commission, which said the piglets were missing.
'Desperately sad'
Pc Jon Palfrey, Gloucestershire Police's rural and environmental crime officer, said: "We do not want people taming wild animals. People need to realise these are not pets.
"Don't feed them because you're putting yourself at risk and as this desperately sad case shows you're also putting the animals themselves at risk by removing their fear of humans."
Ian Harvey, of the Forestry Commission, added: "This sad event illustrates the problems which can occur when these animals are habituated to human presence through feeding.
"The animals lose their natural wariness and become vulnerable to poaching incidents and are more at risk from collisions with vehicles."
Pc Palfrey urged people to report incidents of poaching, but not to approach suspected poachers for their own safety.
He asked anyone with information about the sow's death to contact the force.