Gloucestershire waste incinerator consultation begins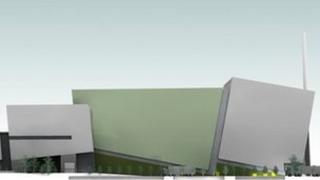 A public consultation into the awarding of a licence to run a waste incinerator in Gloucestershire has begun.
Urbaser Balfour Beatty submitted plans for an Energy from Waste incineration facility at Javelin Park in Haresfield, at junction 12 of the M5, in March.
During the seven-week consultation the Environment Agency will hold drop-in sessions asking for views from members of the public.
More than 5,000 people signed a petition in 2010 opposing the plans.
Stuart Baker, from the Environment Agency, said: "We are considering the application, but before we make any decisions we wanted to give local residents an opportunity to discuss any queries or concerns they may have with us face to face.
"All responses will be reviewed in detail. They will help us to decide whether to grant the permit and, if we do, what conditions we would need to impose to adequately protect the environment and human health."
The Urbaser Balfour Beatty consortium was chosen as Gloucestershire County Council's preferred bidder in December. A 25-year contract worth £500m is due to be awarded next month.
The plant, which is due to open in 2015, will produce electricity and recycle household waste.
Drop-in sessions will take place on 30 May at Quedgeley Village Hall and on 22 June at Hardwicke Village Hall between 16:00 and 21:00 BST.
The consultation will close on 6 July.