Stroud District Council to be run by a coalition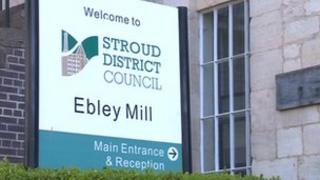 Stroud District Council is to be run by a coalition of Labour, Liberal Democrats and the Green Party.
Councillors agreed on the new arrangement at a meeting on Thursday evening.
The council had been hung since the local elections on 3 May when no single party gained overall control .
It means the Conservative Party has lost control of the council despite holding the largest number of seats.
Conservative Frances Roden resigned from her position as leader after it became apparent she did not command an overall majority.
Her nomination for chair of the council was rejected by coalition councillors.
Labour councillor Geoff Wheeler, who was voted in as the new council leader, said: "We decided we did not want a formal coalition. This is a cooperative arrangement."