Torch relay: Alternative event planned for Forest of Dean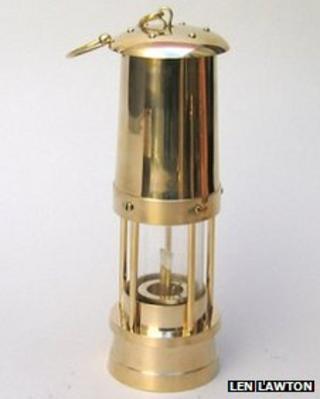 An alternative torch relay is to be held in the Forest of Dean by disgruntled locals unhappy the official Olympic torch relay missed them out.
A miner's Davy lamp, symbolic of the area's industry, will be lit at the bottom of Hopewell Colliery on Friday.
The "Forest Flame" will be carried in a two-day bicycle relay through towns and villages, including Newent, Lydney, Mitcheldean, Coleford and Cinderford.
Organisers said they were upset the official route did not visit the area.
Len Lawton, from Newent Town Council, said: "We have not seen the Olympic flame. It's not come into the Forest of Dean at all.
'Disappointment'
"We were rather upset about that, and we came up with this plan to run a Davy lamp across the district through the Forest of Dean as our alternative."
The official Olympic torch relay passed through Gloucestershire on Wednesday and Thursday, but did not visit communities west of the River Severn.
The Davy lamp, which has been lent by Hopewell Colliery for the event, will be lit using a miner's flint at 19:30 BST.
Newent's Air Training Corps has been invited to carry the flame and parade it through Newent, Mitcheldean and Cinderford on Saturday.
Sally-Anne Grimshaw, 52, officer commanding, said: "We were all getting excited about the fact that the Olympics were coming to the UK as we all wanted our youngsters to be involved with it, but when the [torch relay] routes were publicised it was a bit of a disappointment that we weren't involved.
"But we have got the chance with the Forest Flame to get our cadet organisation involved and other youth organisations involved as well."
Cadet Lee Roberts, 19, who will be a bearer of the flame, said it did not matter that the parade would not be seen by as many spectators as the official torch relay.
"We are doing our bit and the more people that turn out, the better. It basically gets us out there, shows what we do and shows off our ATC uniform," he said.