Diamond Jubilee: Queen adopts Slimbridge Bewick's swan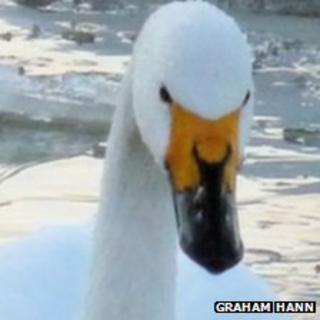 The Queen has accepted the offer of a Bewick's swan to commemorate her Diamond Jubilee.
Diamond Two is one of more than 200 that fly into the Wildfowl and Wetlands Trust site at Slimbridge each winter.
WWT chief executive Martin Spray said the trust was delighted that as patron the Queen had decided to accept the gift.
Its founder, the late Sir Peter Scott, is credited with the discovery of a Bewick's individual bill markings.
Bewick's swans remain faithful to one site and Diamond Two has been coming to Slimbridge every year since 2008.