New £7.1m primary school opens in Brockworth, Gloucestershire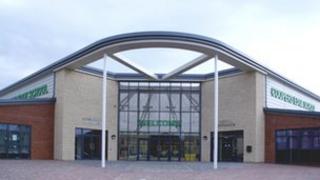 A multi-million pound primary school has been officially opened in Gloucestershire, the county's first parent and community-led school.
Coopers Edge School in Brockworth, 8km (five miles) from Gloucester, will eventually cater for 420 pupils.
The £7.1m cost was funded by an agreement between a consortium of housing developers and the council.
It will be managed as a trust which was chosen by the county council following a competition to run it.
Pupils moved into their new school building in April 2012, having been in temporary buildings on site since September 2011.
Head teacher Keely Folker said: "This day is a celebration of all the hard work and huge amount of dedication put in by so many.
"It is also a day to look to the future - a future full of achievements and celebrations for the whole of Coopers Edge."
The Gloucestershire County Council asked for bids to run the school following a consultation process in 2008.
The Coopers Edge Community Group and The Robinswood Trust were appointed by the county council December 2009 to run the school.
'Exciting times'
"It has been a privilege to be involved in shaping such an important and much needed community facility," said Judith Shackell from the Coopers Edge Community Group.
"We look forward to continuing to support the work of the school through our partnership, the Coopers Edge Trust."
The school has 14 classrooms and a nursery. It has wildlife areas, animal enclosures, an orchard and a pond, as well as the large sports pitch.
There is also a community suite, a covered village square and a runway running through the school site to mark its history as the old Brockworth airfield.
Joan Nash, Conservative councillor for Upton St Leonards, Bisley and Painswick, said: "This is the culmination of many years of hard work by everyone involved with the project.
"It will be wonderful to see the pupils and parents enjoying the facilities at their fantastic new school."
As part of the celebrations, the school's oldest and youngest pupils - Leone Douglas and Amiee Fraser - cut a ribbon and buried a time capsule.