Diamond Jubilee: Cheltenham explosion street has party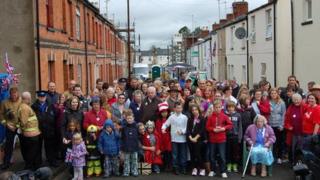 A Diamond Jubilee Street party has taken place in Rosehill Street, Cheltenham, where a house was destroyed in a gas explosion last month.
Residents, who had already planned the party to celebrate the Queen's Jubilee, decided to turn it into a fundraising day for The Fire Fighters Charity.
Locals affected by the 10 May blast were also helped.
Claire Cook, who has move into rented accommodation while her house is repaired, said it "meant a lot" to her.
"It's an opportunity to see everybody again together and to celebrate the fact that nobody was hurt," she said.
Mrs Cook's husband Edward said: "I'm not surprised today is happening. It's the way the street is - everyone looks out for each other and it's nice to see."
Betty Hodgkiss, 81, is recovering from minor burns, cuts and bruises after her home was destroyed in the explosion.
Two neighbouring houses had to be demolished after the blast.
One of the organisers of the street party, Ellie McGuffie, said it was a chance to thank the emergency services who helped with the rescue.
"It's a celebration that nobody was seriously hurt in the houses that came down and it's a celebration of neighbours," she said.
"People who may have not known each other before have all come together and we are all friends now. It's fantastic."
Deputy Prime Minister Nick Clegg has sent a letter of support to the residents of Rosehill Street and the emergency services.
In it he congratulated them on their "extraordinary response to the frightening events" of 10 May.
See all the latest Diamond Jubilee news and features at bbc.co.uk/diamondjubilee