Stephen Morris reviews the 2012 Wychwood Festival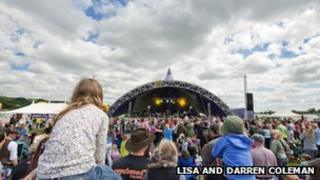 The good folk at Wychwood can't have planned it, surely. Can they?
A theme quickly emerges at the family festival held on Cheltenham Racecourse.
Whether you're watching a headlining act like James or Bellowhead on the main stage, catching up with up and coming talent on the BBC Introducing stage or listening to the imaginative alternative rock opera tales of Duke Special in the Big Top, you can't get away from it.
There's a message. And that message is: live life to the full.
It's a theme you first hear with Cheltenham's The Roving Crows as they open the main stage with their infectious world music encompassing Irish folk: "Never bother looking back, the future lies ahead/life is sweet and very short/and we're a long time dead."
Two days later, as if to establish some kind of symmetry, Bristol's Katey Brookes will close the BBC Introducing stage with a song called 'Live Now' - again, about living for the moment.
As with the Crows' performance, Brookes' song covers a variety of genres in one go: gentle jazz meets folk with an underlying sub-Saharan feel.
Earlier in the final day of the festival, Robin Ince has arrived on stage to an introduction about the sun exploding and engulfing the Earth in just a couple of millions years' time, "so let's make the most of it while we can".
So yes. You could say, there's definitely a theme. It is to be expected, of course.
'Dancing'
A family friendly music festival is hardly going to be the setting for misery and contemplating the futility of life: not when there are yoga classes, the Healing Gardens and a great big colourful pirate ship being woven out of bits of plastic and string by children nearby.
The sense of living life to the full is most obvious in the amount of dancing at the festival.
It's impossible to not dance to Bellowhead, the British folk phenomenon who add flourishes of funk and jazz and everything else (including punk in the case of 'Little Sally Racket') to traditional tunes.
And it's equally difficult to avoid movement to the music of Mahala Rai Banda whose supercharged interpretation of Romanian music (an impressive array of brass peppered with strings) is enough to make you think the term 'drums and bass' was appropriated by the wrong genre.
If you thought it was impossible to play the trombone while jumping up and down, watch Mahala Rai Banda perform and think again.
There's dancing too (there has to be dancing too) when Thrill Collins take to the main stage on Sunday with their tongue in cheek skiffle take on cheesy hits of the 80s and 90s.
There's 'Girls Just Want to have Fun' ("They do you know; I've seen them", singer Robert Pert announces afterwards), the 'national anthem', or the theme to 'Only Fools and Horses' as we know it better.
And of course there's the Christmas carol, 'Killing in the Name', a Spanish tinged interpretation of the Rage Against the Machine classic with the oh so polite chorus of "Pardon me, sir, I won't do what you tell me". Well, there are children present.
'Break free'
Elsewhere, the theme of living life to the full is all there in the lyrics of the bands and artists performing.
When not berating his ex-record label and former prospective record labels (which he does more than is strictly necessary) Mansfield's Gary Armstrong sings about making the most of life to a musical score recalling Dodgy who also feature at the festival.
There are songs like 'Born to be Alive' (which is self-explanatory) and 'Above the Noise' ("in my room I headline Glastonbury every night").
For other acts, the desire to celebrate life comes in subtler shades, such as those of Stylusboy from Coventry who sings beautifully understated songs (think Simon and Garfunkel meets Damien Rice) about life experiences such as the nigh on perfect 'Dave's Song' about hope and loss in the face of a friend's death.
Meanwhile, Cheltenham's very own Stressechoes do their bit towards the cause of seizing the day with songs about needing to break free from routine and dreaming of a happier, simpler life.
They are joined for a couple of songs (as they are on their forthcoming album, 'Goodnight, Impossible') by Cheltenham based singer songwriter, and multi-instrumentalist Juey, who adds a touch of her folk-country style to proceedings. The result is breathtakingly beautiful.
And then there's Gloucestershire's The Flex on the BBC Introducing stage who treat us to their very own unofficial Olympic anthem, 'Our Time is Now' which is as uplifting and optimistic in sound as an unofficial Olympic anthem should be.
Precisely what Guy Garvey has to say about his competition is unrecorded.
But the band get the crowd onside quickly with their big voiced vocals (think Tony Hadley fronting Maxïmo Park and you'll get the idea).
'Bubble machine'
In fact one keen audience member even does a quick sketch of the band in action which they promptly put in pride of place on their Facebook page.
Swindon's Super Square Cloud's contribution to the live-life-to-the-max ethos is an exercise in gleeful lo-fi indie noise, complete with extra math-rock goodness.
Their songs include everything including the kitchen sink. Melodica? Check. Glockenspiel? Check. Bubble machine? Absolutely.
You can't have a disharmonic lo-fi math rock experimental festival set without a bubble machine.
Cheltenham's Harbour take to the BBC Introducing Stage with a grunty, American alt-rock sound.
It's a high octane blast of musical energy conveying the usual sense of existential angst you'd expect from a band full of grunting and groaning vocals.
But the most impressive thing from the band is lead singer Mike Elliott's amazing bright red trousers.
I ask on Twitter where he got them and he's kind enough to reply promptly. Maybe he's on commission.
'Spell binding'
Indie, in its various forms, takes up much of the BBC Introducing stage's schedules with Oxford's Secret Rivals performing a set of raw indie tunes recalling those innocent days when there was a band called Idlewild and the Arctic Monkeys hadn't come along to shift the goal posts.
Even Oxford's Wild Swim, clad in heavy winter coats last seen during Joy Division photo shoots and playing a breed of gloomy Editors meets latter day Radiohead songs can't help but be drawn into the carpe diem spirit, bursting into smiles between songs.
And then there are the young prodigies for whom seizing the day is the default setting.
Witness one Theo Altieri from Swindon who, at the annoyingly tender age of 15 performs excellent songs such as 'I See You' with the aid of a guitar, drum machine and loop station.
It builds and builds from nothing into something utterly spell binding. I suspect some sort of witchcraft.
A further example of youth prodigy is Gloucestershire's George Montague, already familiar to many of BBC Radio Gloucestershire's listeners.
His brand of jazz-rock fusion is breath taking, calling to mind a worthy comparison with Ben Folds Five.
There are elements of soul and funk (along with musical allusions to Mika and Billy Joel) and plenty of fun in his songs.
Where else could you expect to hear a song in which the phenomenon of having songs stuck in your head is humanised and given the name ''Hamish'? Nowhere. That's where. Absolutely nowhere.
George Montague is, to put it bluntly, annoyingly talented. He deserves only to do very, very well. And this is even more annoying.
'Local talent'
There's folk aplenty too, not just from the heavy weights of The Saw Doctors, Show of Hands and Sharon Shannon on the main stage, but also care of Keston Cobblers Club (named after a genius cobbler of folklore who started regular dances in his village with the singular aim of wearing everyone's shoes out) with their gorgeous, multi-instrumental European flavoured oom-pah folk.
And then there's Chester/North Wales' Shy and the Fight who bring a contemporary folk sound to Wychwood which is, by turns charming, tender and fragile one minute and then a barnstorming riot of a hoe down the next. At all points, it's totally engaging and uplifting.
But one of the biggest highlights is to be found in the small Pomme Stage, where the University of Gloucestershire are showcasing some of the local talent.
It's here that you'll find native favourites such as Canary Swing (once known, bafflingly, as Funky Horse Milk) and urban trip-hoppers Simplistic Scientists.
And it's here too that you'll find The Cadbury Sisters with their simple close harmony singing over the most basic yet magical guitar accompaniments.
It's spellbinding stuff. And even though their songs seem to be mostly about the sadness of failed relationships, you cannot help but sense a spark of the beauty which this festival celebrates.
This has been one life affirming, fun packed festival. A rather wonderful thing indeed.