Gloucestershire Police join gay pride event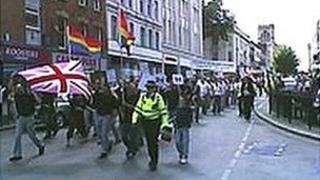 Gloucestershire Police officers are to officially support a gay pride event.
Members of the force's Gay Police Association (GPA) will attend Gloucestershire Pride.
The event at Gloucester Park will feature speeches, a city parade and a festival in the park.
Assistant Chief Constable Richard Berry will speak on behalf of the constabulary and the GPA is managing an information tent, to "encourage better engagement" with the community.
The association is also being supported by colleagues from the e-fit team, roads policing unit, dog section, fingerprint section, and scenes of crime officers.
GPA chairman, Neil Snaith, said: "The victims of crime that I've dealt with, through my work in the GPA and with my work as a gay liaison officer, are very happy with the police service they get from Gloucestershire Police.
"I think Gloucestershire Police have advanced greatly in the last 20 years in relation to dealing with homophobic crime."
The first gay pride march in Gloucester was organised in memory of barman Jody Dobrowski, 24, from Stroud, who was murdered because of his sexuality in London in October 2005.
Pride committee chairman Michael Charlton Hubble said: "Although it started as a protest many years ago, over the years it's evolved to not only still fight for equal rights for everybody, but also to appreciate what we have now and to celebrate that."