Rower Charlie Martell 'may try again' to row across the Pacific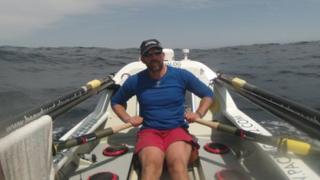 A British rower, who was rescued from the Pacific earlier this month, says he has not ruled out another attempt at a solo crossing of the ocean.
Charlie Martell, 41, from Gloucestershire, abandoned his attempt to row from Japan to the US, when his boat was damaged in a tropical storm .
He was picked up by a ship on 8 June.
Mr Martell said he would decide whether to try again after he has assessed damage to his boat, Blossom, which is due to arrive back from Canada in July.
"I wouldn't say no but it's undecided at the moment," he said.
"My boat is in a container on its way back to the UK.
'Bad luck'
"When she arrives at the end of next month we'll do some damage assessment with the boat builders and they'll be able to tell me whether we can repair her or not.
"If we can repair her we'll make a decision then."
Mr Martell arrived back home in Cirencester on Friday night.
He spent 12 days on board the Russian-crewed ship that rescued him, Last Tycoon, en route to Vancouver.
Mr Martell said it was "pure bad luck" which led to his craft's bulkhead breaking, forcing him abandon his voyage.
"I went end over end and the boat is not designed for it. It's quite rare.
"The full force of the waves hit the bulkhead on landing.
"The boat did exactly as she was designed to do. She saved my life and kept me dry and secure."
Mr Martell was attempting to become the first person to row unsupported across the Pacific when the accident happened.
He was also attempting the fastest crossing of the North Atlantic and to become the first solo Briton to make the 6,000-mile (9,600km) crossing.
He had been 34 days into the journey, which began on 4 May, and about 700 miles (1,100km) from Japan when he raised the alarm.