Woman priest sees daughter ordained at Gloucester Cathedral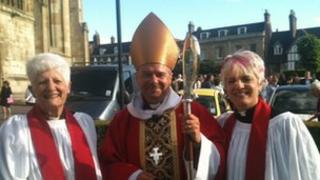 A priest who was one of the first women to be ordained 18 years ago has now seen her daughter ordained.
Canon Pat Lyes-Wilson, who was ordained in 1994, watched as her daughter the Reverend Ruth Fitter became a priest at a special service at Gloucester Cathedral on Saturday.
Ruth Fitter said: "It's only because of women like mum that we can do this."
Women were initially ordained as deacons by the Church of England in 1987 - and only as priests since 1994.
Canon Pat Lyes-Wilson said: "I would have fought to have been here. As Ruth says, it has been a long journey for her and I'm with her all the way.
"God has done a good job on her and it's lovely to be here for her today."
'No high heels'
Her daughter added: "Unlike my mum, I am not the first female minister families have met.
"Most secular people cannot believe that we still have resolutions preventing women from taking up an incumbency role or from presiding at the Eucharist, let alone that women cannot go on to be bishops if that is what they feel God's call is on their lives.
"Whilst there is still an element of watching how we dress we are immensely free to do as we wish.
"Mum and her generation felt that they really had to be extremely careful - no dangly earrings, minimal makeup, trousers or long skirts - certainly no splits or high heels.
"The main change, I think, is the general acceptance of women's ministry amongst the wider community."