Future of Forest of Dean plans 'welcomed' by campaigners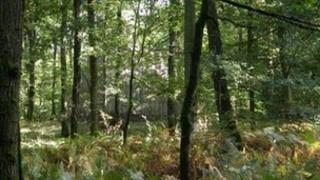 Campaigners in the Forest of Dean have given a cautious welcome to the findings of an independent report into the way woodlands are run and managed.
The review into what should happen with England's publicly owned forest was set up after a ministerial U-turn on plans to sell off a chunk of its woodlands.
It concluded that state-owned forests should be held in trust for the people.
Rich Daniels, from Hands Off Our Forest (Hoof), said his response to the report was "guarded".
Mr Daniels said: "I think some of the points are very good, but of course they are recommendations and we now need to see the government legislate.
"For example, keeping the public forest as a public forest for us, for the people.
'Wildlife habitats'
"It's a great idea, we have backed it all along. Now we need to see legislation to back it up."
The Independent Forestry Panel - headed by the Right Reverend James Jones, Bishop of Liverpool - published its final report on Wednesday.
The 72-page document said governments had failed to appreciate the full value of what forests provided, such as clean air and water, wildlife habitats, shade, soil stabilisation, and a place for people to nurture their physical and mental health.
It also concluded that woodlands could help "drive a sustainable economic revival".
Forest of Dean chief verderer Bob Jenkins, who is responsible for protecting trees and wildlife, said: "It does appear that a lot of the Forest of Dean, like many other forests, will remain in public ownership and the coverage of forest in the UK will also increase.
"That can't be a bad thing provided it doesn't go against us."
The government said it accepted the recommendations of the report and would halt plans to sell-off state-owned forests.