'Crank' admits making explosives in Cheltenham garage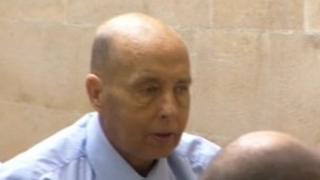 An electrical engineer described by a judge as a "crank" has been jailed for two-and-a-half years after admitting making explosives in a lock-up garage.
Martin Counsell, 52, of Brooklyn Road, Cheltenham, was arrested in May after police found the explosives in a garage in Buttermere Close.
Counsell pleaded guilty at Gloucester Crown Court to making an explosive substance for an unlawful purpose.
Judge Jamie Tabor said Counsell had an "obsessive fear of burglars".
'Lonely man'
Judge Tabor said: "As you became more isolated from society you became what the Victorians called a crank.
"You became obsessed about burglars. I also accept that you created those devices with the intention of scaring rather than injuring."
Counsell's defence, Lloyd Jenkins, said he "literally manufactured trip wires to cause a loud bang" in order to scare off burglars.
The judge also said he was satisfied he had no links to terrorism or any political agenda.
Judge Tabor told the court Counsell was a "lonely man who was making things in his garage which he shouldn't have done".
The judge told him: "Your actions caused extreme inconvenience to local residents and your actions disturbed and frightened local residents - some remain disturbed and anxious to this day."
The court also heard about Counsell's £10,000 debt after his business went bust and how his alcoholism shortened his life expectancy and resulted in his wife leaving him.
Judge Tabor said: "The greatest danger was to yourself. The thought of you, an alcoholic, working in your grubby garage creating this explosive, in albeit very small quantities, is extremely worrying."
When Gloucestershire Police and the South East Counter Terrorism Unit discovered the explosives in a garage, 100 homes were evacuated and controlled explosions were carried out by a bomb disposal team.
Det Ch Supt George Turner, Head of the South East Counter Terrorism Unit, said: "I believe that it is only a matter of good fortune that Counsell did not injure himself or others.
"In this case, his purpose was misguided, but extremely dangerous, and the severity of the materials he had in his possession made it necessary for our unit to become involved."