Severn Area Rescue Association blesses new lifeboat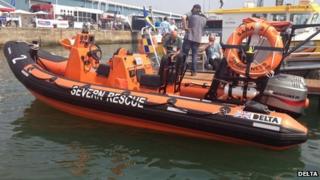 A new lifeboat has been officially blessed by the Gloucestershire-based Severn Area Rescue Association (Sara) charity.
The new craft, named the Dave Moore after a former coxswain who died in 2003, will have a crew of three.
A legacy left by Mr Moore has enabled Sara to purchase the £137,000 Delta 6.5X craft.
The lifeboat also took part in the Queen's Diamond Jubilee flotilla on the River Thames on 3 June.
Geoff Dawe, from Sara, said the boat, which was presented to the charity in May, was very important for the area.
It provides a 24/7 search-and-rescue service in the Severn Estuary and has also helped rescue people from inland flooding.