Gloucester Cathedral announces enhancement plans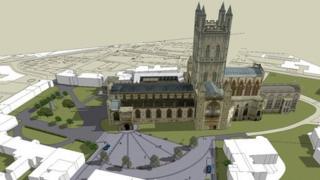 Plans to enhance the visitor experience of Gloucester Cathedral have been revealed by its chapter.
Brightening the entrance, creating more public space and possibly installing a glass roof over the Cloisters are among the ideas being discussed.
"It's all about the Cathedral being in tune with heaven and in touch with daily life," said the cathedral's dean.
Four areas of enhancement are the focus of Project Pilgrim, which is now open for consultation and further planning.
The Dean of Gloucester, the Very Reverend Stephen Lake, said: "This is about how visitors can interact and engage with the building much more effectively, how they can encounter it, how they approach it, and their response when they're there."
He added that Project Pilgrim was just one aspect of a major five-year plan of development at the cathedral.
'Beautiful'
The four areas of enhancement include:
Linking the Cloisters and 14th Century Parliament Suite with a new cafe, gift shop and education space
Developing the approach to the cathedral in College Green
Developing the welcome area in the South Porch
Making more use of the Crypt, Lady Chapel and Whispering Gallery
The Dean of Gloucester added: "We're not taking anything out, just making the most of what is already there."
He said the plans would make the cathedral's entrance "more beautiful" and help make visitors "feel really welcome".
The current car park could also be landscaped to draw people in and become public space.
A period of consultation is under way and the cathedral is preparing to make funding bids to bodies such as the Heritage Lottery Fund "in about a year's time".