Forest of Dean trees to be felled over disease fears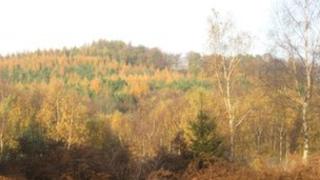 About 36,000 larch trees are set to be felled in the Forest of Dean to prevent the spread of a killer disease.
The Forestry Commission wants to stop the spread of the phytopthora ramorum fungus, which has already destroyed many trees in Devon and Cornwall.
Deputy surveyor Kevin Stannard said the felling was "significant" but only represented a small part of the forest.
Work will begin in September and is set to be completed by the end of March.
Autumn colour
Not all the 36,000 trees are infected and the felling is taking place as a precaution around trees which have been identified as having the disease.
So far about nine sites have been earmarked.
"We currently have 45 hectares of larch known to be infected out of a total of 880 hectares of larch in the Forest of Dean, and larch only makes up 11% of the forest," said Mr Stannard.
Larch trees are more susceptible to carrying larger numbers of spores which can then easily spread to other tree species.
"The difference with larch, and indeed sweet chestnut, is that it sporulates profusely, so we're talking about hundreds of thousands of spores per needle and there are thousands of needles per tree and that is far in excess of how it behaves on other plant species," Mr Stannard said.
The pathogen was first discovered in 2002 but was not associated with forests until 2009.
"As the larch gives the forest much of its autumn colour, the areas that are infected, if we get them down in September, October, this will be the first time where people will not be seeing that autumn colour."