Gloucester ski centre buyer announces slope extension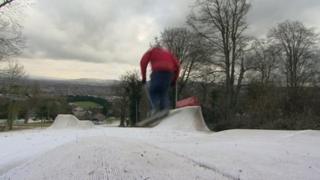 A bid to buy Gloucester ski slope has been accepted by the current owners, it has been announced.
Bristol businessman Mark Hamilton-Davies, who owns OpalTec, will take over at the end of the month.
Gloucester Ski and Snowboard Centre was put up for sale by Jupiter Hotels Ltd in April. Previous owner Ramada Jarvis went into liquidation in 2011.
The main dry slope will be extended by 30m (100ft) to 250m (820ft) as part of the plans.
Centre manager Jean White said: "We are looking forward to working with the new owners to help improve the centre and restore it to its former glory."
Tim Fawke, from Snowsport England, said: "It's fantastic news, we will be able to run some exciting competitions with these proposed developments and hopefully get more people in Gloucestershire giving snowsports a go."
Former Great Britain ski jump competitor Eddie "the Eagle" Edwards, who lives in Stroud and trained on the slope as a teenager, said it was excellent news.
"It's great that they're going to extend the old slope back to its original length.
"After a landslide they reduced it down and it was not as good to ski on.
"It was my first home. I was there as much as I could be when I was at school."
The centre is due to be fully open in September.