Ricky Enfield jailed for life for Sean Hook murder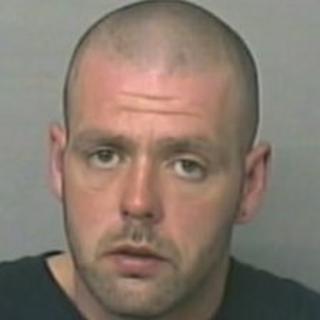 A Gloucestershire man has been jailed for life for stabbing his friend to death in the Forest of Dean.
Ricky Enfield, 34, was found guilty of murdering 27-year-old Sean Hook following a trial at Bristol Crown Court.
Enfield, of Queensway, Broadwell, was told he must serve a minimum of 16 years and 208 days in custody.
The court heard Enfield killed Mr Hook after he found out he had been having an affair with his ex-partner.
Det Insp Steve Bean said: "This was a brutal killing that has left the family and friends of Sean Hook devastated."
'He's disgusting'
Enfield killed Mr Hook at a house in Cyril Hart Way, Coleford, on 10 February.
Mr Hook's mother Cheryl Waltham said the family were devastated.
"It's been a nightmare to us all," she said. "It's awful without Sean.
"I can't think of any words to describe what he [Ricky Enfield] has done.
"He's disgusting. He's absolutely wrecked my life."
She said she was satisfied with the verdict and thanked the police and victim support.
Det Insp Bean said: "The tragic events of that night have touched a lot more people than just those directly involved and had a profound impact on a very close-knit community.
"We hope this verdict provides some comfort to all those who have been affected."