Edward Jenner museum considers loan request for letter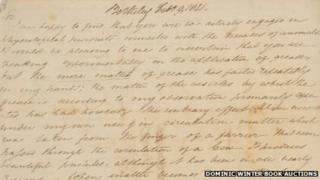 An overseas buyer of a letter written by vaccination pioneer Dr Edward Jenner may be asked to loan it to a museum.
The rare handwritten letter was sold at auction on Thursday to a US medical manuscript collector for £16,730.
It went for double the estimated value and the Edward Jenner Museum, which had raised funds to buy the letter, was forced out of the bidding.
Museum staff are now hoping to contact the buyer to ask if he might consider loaning it to the museum in Berkeley.
'We are disappointed'
Helen Jeffrey, from the Edward Jenner Museum, described the item as "gold dust" to their collection.
She said: "We are disappointed. It would have been a fantastic addition to the collection, and also it would have been coming back to where it was written.
"The prominence - you couldn't write it - it was gold dust to us."
The letter was written in 1821, from Dr Jenner to a vet in Bath, and described vaccination trials using samples from pox-infected farm animals.
It was sold by Dominic Winter auctioneers in Gloucestershire for £14,000 with the final bill amounting to £16,730.
Mrs Jeffrey said the museum would now try to contact the person who had bought it to inquire about arranging a loan.
Edward Jenner was born in Berkeley, Gloucestershire, in 1749 and spent most of his career as a doctor in his native town.
He is known as the pioneer of smallpox vaccination and the father of immunology.