Gloucestershire's councils earn £30m from car park charges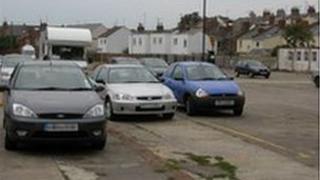 Councils in Gloucestershire have raised nearly £30m from car parking charges over the past three years, the BBC has learned.
There are 104 council car parks with hourly rates ranging from 20p to £1.60.
Earlier this month the Forest of Dean District Council joined the county's other five district councils in charging for parking.
The county council, responsible for on-street car parking, brought in £6.3m in net profit last year.
'Cash cow'
The councils which raised the most from off-street car parking are Cheltenham, Gloucester City Council and the Cotswolds.
Martin Quantock, manager of the Cheltenham Business Partnership, said: "There is an understanding among traders the council needs to raise revenue, but the town must remain competitive and there is no point milking the cash cow".
He believes Cheltenham Borough Council does have the right car parking pricing policy but said traders and shoppers might be attracted by one-off promotions and free parking in the evenings.
Francis Green, a chef and businessman in Moreton-in-Marsh, said people were put off by car parking charges and were less likely to simply "pop in" to places and that this is "killing the high street".
The man responsible for car parking for Tewkesbury Borough Council, Dave Waters, said: "Car parking income is very important to the council as the net income is equivalent to the cost of running the Cascades Swimming Pool."
In Cheltenham, the Borough Council's chief executive, Andrew North, said the income generated through car parking charges are "a really important contribution to the council's finances and helps pay for things like street cleaning, town centre improvements and maintenance of parks and gardens."
He said that he believed it was right that people who visit Cheltenham helped to pay towards some of the services but acknowledged that it is about "getting the right balance".