Fairford Steam Rally future in doubt, say organisers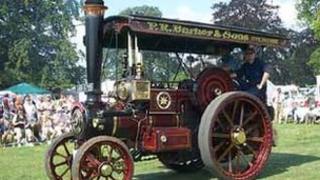 The future of an annual steam rally in Gloucestershire is in doubt after organisers were forced to cancel it due to bad weather.
Fairford Steam Rally, which last year attracted about 12,000 visitors, was due to take place on the weekend of 18 and 19 August.
Organisers said they had no option but to call it off because of waterlogged ground at Fairford Park.
They say they have been asked to look for an alternative site for next year.
A field normally used to re-house cattle from the site was also flooded when the site was checked, they added.
Chairman Reg Poulton said: "We don't know what the future is at the moment until we've had a meeting and sat down and discussed it and looked at all the facts.
"I hope we haven't seen the last Fairford Steam Rally. We would like to continue, but you'll have to watch this space. We don't know at the moment."
It is the third time in six years the rally has had to be cancelled.
The show has been held at Fairford Park since 1969.