Gustav Holst Birthplace Museum archives in Cheltenham to be digitised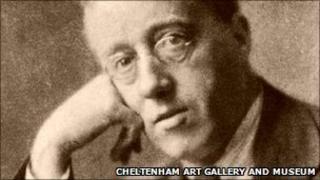 Archives at the Holst Birthplace Museum in Cheltenham are to be digitised and made available online.
Museum trustees say a Heritage Lottery Fund grant of almost £30,000 will allow the £64,000 project to begin.
The archives include signed music by Holst, concert programmes, press cuttings, letters, photographs, drawings, journals and recordings.
Over the next two years material will be digitised and made accessible in the museum and via its website.
Acting Curator Sara Salvidge said: "We have some wonderful items in the museum's collection which rarely see the light of day due to lack of space for display and investigation.
"We're very excited and extremely grateful to the funders that the new Holst Discovery Space will allow visitors to have access to elements of Holst's life and work which are less well known but give a real sense of the character of Holst the man and composer.
"The Discovery Space will also contain modern technology to explore the collections without it affecting the evocative atmosphere of Holst's birthplace that our visitors enjoy so much."
The musical scores of some of Holst's early compositions will be digitised allowing them to be viewed, while specially recorded performances will be heard simultaneously.
Gustav Holst, who is probably most famous for his orchestral suite The Planets was born in Cheltenham in 1874.