Campaign group says proposed incinerator 'no longer makes financial sense'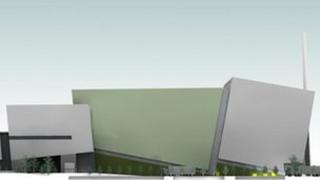 A campaign group which is against plans to build a waste incinerator between Stroud and Gloucester has said the business case for it "has collapsed".
Sue Oppenheimer from GlosVAIN said the plant at Javelin Park, Haresfield, no longer made financial sense, was not needed, and would be too big.
The group has submitted a 44-page document listing their objections to the Environment Agency.
The county council said it was unable to comment on planning applications.
'Blot on the landscape'
Ms Oppenheimer said she was also worried about the health impacts of the plant, which would be "five-times the size of Blooms [garden centre]" next door.
"It's going to enormous, such a blot on the landscape," she added.
She added that Gloucestershire's waste levels were reducing, leading to concerns that waste would be imported from out of the county.
GlosVAIN said the document was in response to the agency's own consultation, as well as Urbaser Balfour Beatty's planning application and Gloucestershire County Council's Waste Core Strategy.
Urbaser Balfour Beatty was awarded the 25-year contract, worth £500m, to build and run the Energy from Waste facility in December 2011.
It submitted plans for the facility at junction 12 of the M5 in March 2012. It is due to open in 2015 and will produce electricity and recycle household waste.
'Best practice'
In a statement, the company said its planning application was now the subject of a statutory public consultation and the permit application has been lodged with the Environment Agency.
"To ensure the protection of the environment and human health, Urbaser Balfour Beatty's planning and permitting applications include a range of detailed studies carried out in accordance with best practice guidelines.
"Links to these studies and all information relating to the Javelin Park proposals can be found online."
Currently much of Gloucestershire's waste is sent to landfill which is expensive and impacts on the environment.
The Conservative-run authority had estimated the incinerator would generate enough electricity to power 28,000 homes and save the council £150m over 25 years.
More than 5,000 people signed a petition in 2010 opposing the plans.
In June a report recommended that a licence to run the waste incinerator be refused due to a rare species of bat being found there.