Gloucestershire dairy farmer 'forced' to sell herd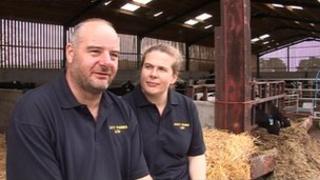 A Gloucestershire dairy farmer has said he has been to "forced" to sell his herd because of decreasing milk prices.
Chris Gott, from Nashend Farm, near Staunton, said seeing his animals go to auction was like a "funeral".
Mr Gott said he and his wife, Rosalind, were barely making a living and felt like they had failed.
Gloucestershire has seen a 47% drop in the number of dairy farmers in the past 10 years, the Agriculture and Horticulture Development Board said.
Figures show there were 399 herds in 2002 but, by May this year, that number had fallen to just 180.
'Business people'
"How can we do 60 to 80 hours a week and make no money? It just doesn't make sense," said Mr Gott, who has been working with dairy cows for 25 years.
"If we can't make money on a job, we have got to be business people. We have to do it, we have to sell.
"We get told what price we get for our milk. We have bills coming in and everything keeps going up all the time.
"At 24p, 25p [a pint] it's no good. It's just no good."
Mrs Gott said the farm needed to sell milk for about 31p a pint in order to make a profit and grow the business.
"Your dairy cows are like your children, like your family. The ones that we've bred ourselves especially," she added.
"I feel like we've let the cows down. They've got to go and live somewhere else and they're not going to be with us anymore."
Imported milk
Mr Gott said he was looking to diversify the farm - now in its third generation of the same family - in the future in order to make some money.
In July, hundreds of dairy farmers protested at processing plants in Somerset, Yorkshire and Leicestershire in a row over milk price cuts.
Campaign group Farmers for Action warned that the cuts, combined with riding feed costs, could force hundreds of dairy farmers out of business - leading to milk being imported in large quantities.