Charlotte Dujardin gets gold postbox in Newent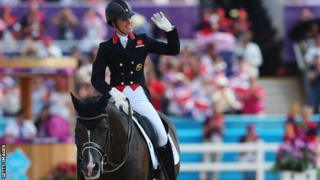 Olympic dressage gold medallist Charlotte Dujardin is having a postbox painted gold in her honour in her Gloucestershire home town.
Royal Mail staff were painting the postbox in Church Street in Newent, on Friday morning following her triumph at London 2012.
It is also producing a Gold Medal stamp to celebrate the 27-year-old's win, which will go on sale on Friday.
"I wanted to enjoy it, go out and not regret anything," Dujardin said.
The Olympian also helped Britain to team victory in Greenwich Park on Tuesday.