Northleach Old Prison to be 'leading tourist attraction'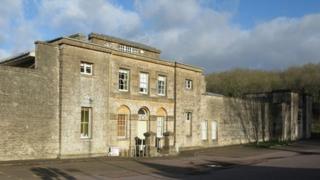 An 18th Century prison building should be a "leading attraction" in the Cotswolds, the prospective owners say.
The vision for Northleach Old Prison has been shared publicly for the first time since the Friends of the Cotswolds group was chosen as preferred bidders.
Cotswold District Council said last year that it was selling the building to save repair and maintenance costs.
The group wants to open the entire building as a volunteer-run community heritage site and raise its profile.
Dozens of visitors have attended an open event to "show the potential" of the building.
'Encouraged by support'
Simon Randall, chairman of Friends of the Cotswolds, said he was keen to demonstrate the group's commitment to conserving the heritage of the building for the future.
"We are planning that it should be a leading attraction so that people will always say 'we must visit the Old Prison'," he said.
"During the past year, we have been immensely encouraged by the amount of support we have received from local people and visitors in our bid to save this wonderful site for the future enjoyment of many people."
The group, which is due to take over ownership next year, is also planning to open up parts of the old building which have previously remained sealed off.
The site was was built in the 1790s as the Northleach House of Correction, one of four houses of correction in Gloucestershire.
The keeper's house, female cells, police station, court room and front facade and perimeter wall still survive.
Some £750,000 of funding is now being sought by the Friends of the Cotswolds, which includes £100,000 for initial refurbishment work and £650,000 to enhance the building's reputation and carry out a number of improvements.