Nailsworth celebration planned for Olympic champion Pete Reed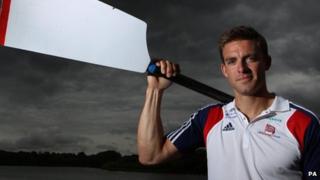 Olympic rowing champion Pete Reed is to be honoured with a civic reception and open-top bus tour in his Gloucestershire home town.
Civic leaders in Nailsworth, near Stroud, are planning the celebration after Reed won gold in the men's coxless four at London 2012.
The 31-year-old former Oxford Blue, who is in the Royal Navy, proposed to his girlfriend during the closing ceremony.
"It's been an amazing few weeks," his father, Leo Reed, said.
Reed also won a gold medal in the men's coxless four at the Beijing Olympics.
'Wonderful achievement'
His father said: "We have been overwhelmed by the response of the local community and very proud of our son's achievement as a double Olympian and are delighted that he has announced that he will go on and race in the next Olympics.
"We're very much looking forward to the celebrations in Stroud and Nailsworth."
Pete Reed, Alex Gregory, from Cheltenham, Andy Triggs Hodge, from Hebden in North Yorkshire and Tom James, from Wrexham in north Wales, won the men's coxless four on 4 August.
John Hudson, chairman of Stroud District Council, said: "Stroud District Council would like to congratulate Peter and his team mates on their wonderful achievement.
"We hope that celebrating his success will inspire and motivate other local athletes to go on and achieve great things - maybe even more gold medals at the Rio Games in 2016."
The celebration is due to be held on 15 September.