Anti-badger cull party runs for police commissioner role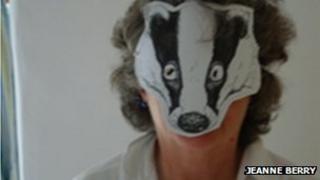 A member of an anti-badger cull group is bidding to become Gloucestershire's police and crime commissioner.
Jeanne Berry, of the Badger Party, wants to highlight what she describes as public safety fears about Defra's planned badger culls in the county.
Mrs Berry said the culls, which will go ahead after a failed legal challenge, would use "high-velocity bullets which travel up to three miles".
Defra has said it will work closely with police to ensure public safety.
'Safety is vital'
No information has been released by Defra or Natural England about the cull zone locations but the party believes they are in the Forest of Dean and the Tewkesbury area.
"I don't think people are going to want to have their brains blown out - so my argument is about safety and the fact that people need to know what's happening," said Mrs Berry.
"We know of professional shooters and they've told me they won't go out at night-time when they go out to walk their dogs when the badger cull is happening."
But a spokesman for Defra said public safety was "vital" in its planning for the culls.
"Only highly trained individuals will be licensed to cull badgers, and every licence application will have to meet strong safety requirements.
"Farmers and Natural England will also discuss these issues comprehensively with the local police force ahead of any activity taking place."
'Experienced weapon holders'
Mrs Berry has said her attempts to find out more from Gloucestershire Police about the culls has also failed.
A spokesman for Gloucestershire Police said: "It is important to stress that this is a Defra managed issue under licence from Natural England and not something any respective police force has direct jurisdiction over.
"Planning for our role continues, and we are taking advice from Defra and Acpo as to how policing should be managed."
The police added that public safety was of "paramount importance" and the cull licensees would be experienced weapon holders and users.
Also standing in the Gloucestershire police commissioner elections are Victoria Atkins (Conservative), Rupi Dhanda (Labour) and independent candidate, Martin Surl.