George Montague reviewed by Stephen Morris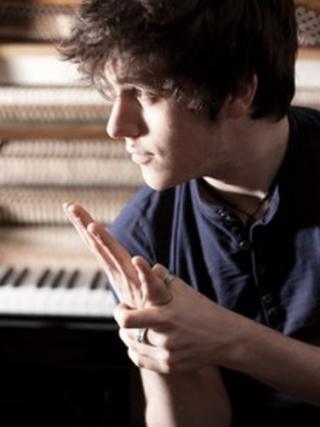 George Montague is very annoying.
Anyone who has read this writer's coverage of 2012's Wychwood Festival will be familiar with this observation.
Accompanied by bass and drums, Montague's principally piano-based set on the festival's final day was an explosion of creativity, passion and fun. Lots of passion. Bucketfuls of fun.
Back on that day, it was clear for all to see; Montague is a formidable talent, as composer, multi-instrumentalist and all round showman.
Hence the 'annoying' comment. No one should be this good at so many things.
George Montague's debut album, Have You Met George, captured the incendiary spirit of his live performance within the confines of a studio setting.
The studio being Rockfield Studios, the birthplace of Queen's Bohemian Rhapsody and much of Coldplay's debut album. Every silver lining has its cloud.
Strange as it may sound to anyone with experience of witnessing Montague and his band perform, the album has a fuller sound (or should that be EVEN fuller sound?) with saxophones, brass and soul-filled, 'Dark Side of the Moon' backing vocals adding to the basic line up.
The result is somewhere between Ben Folds Five, Mika and Jamie Cullum.
'Funky swagger'
It's a creation built around Montague's piano-based virtuosity.
Much of this faultlessly constructed album is given over to pomp and funky swagger.
As a showman, Montague knows how to delight and connect with his audience's soul - even with the barriers of time and space separating his recording of songs from the listener's appreciation of them.
And so 'Have You Met…' opens in fine blustering fashion with 'Blood Ties', boasting much of what is to come: soulful harmonies, funky riffs from the brass and, course, the jazzy grooves from the piano flitting with dragonfly dexterity around Montague's snarling, growling, self-assured vocals.
Like any perfectly crafted album (for that is what we are talking about here), 'Have You Met…' takes things down a notch through the middle of the record.
'Footprints in the Rain' is a slower, introspective ballad while 'Waiting Room' is a beautiful, mournful tribute to a deceased friend.
And then, as befits the nature of good records, things pick up, the beats kick back in and the bold, brassiness re-emerges.
Montague cranks things up, first with 'Hamish' in which our hero personifies the sensation of music pervading your consciousness.
It's an epic song, recalling early Ben Folds Five (a bit of 'Underground' here, a bit of 'Satan is my Master' there) and jazz-embracing Tom Waits, both at their most gleefully chaotic.
'Celebration of life'
The album closes in reflective mood with 'Mind' and 'Pocket Full', the latter being a tribute to Montague's parents, the former being an introspective thought-piece.
Despite the impressive range in tone and texture of the album, there is a marvellous sense of continuity to the record which pays no attention to the position of the volume controls.
The album is peppered with lyrics about blood, veins, arteries, shivers down spines, breaths, feet tapping and hands beating.
You'll find fewer references to parts of the body on 'Dem Bones'.
'Have You Met George' is a celebration of life: whether that is the thrill of sensory delights in the form of 'Hamish' or 'Shiver', the magnificence of love in 'Blood Ties', or more poignant reflections on those no longer with us 'Waiting Room'.
It is a musical marvel and something of a masterpiece.