Everest climb 'easy' compared to charity bike ride, says mountaineer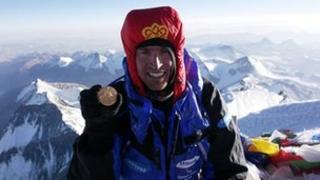 One of the UK's best mountaineers has said climbing Mount Everest was "easy" compared to cycling in the week-long Haute Route endurance race.
Kenton Cool, from Gloucestershire, who has scaled the world's highest peak 10 times, is taking part in the bike ride for charity in the French Alps.
He said Tuesday's stage of 138km (86 miles) from Courchevel to Alpe d'Huez, was "absolutely brutal".
The ride is described as one of the "toughest and highest" in the world.
Mr Cool said Tuesday's ride, which included ascents totalling 4,700m (15,000ft), was "the hardest day ever".
He added: "It was absolutely brutal. It was horrendous. It took me seven hours 10 minutes in the saddle and it was hot. It took me to a very dark place.
"This is just in a different league [to climbing Everest]. It's unbelievably hard. I really can't put across in words how difficult this has been. It's just relentless."
The Haute Route is an annual event which runs for 780km (485 miles) between Geneva and Nice.
It takes in 19 Alpine cols, covers a total of 21,000m (69,000ft) of ascent, and is described by organisers as "the toughest and highest cyclosportive in the world".
Mr Cool completed his most recent ascent of Everest in May, when he took an Olympic gold medal, awarded to the 1922 British Everest expedition, to the summit.
He is part of a team, including TV gardener Chris Beardshaw, that is raising money for the charity Arthritis Research UK.