Gloucestershire Airport plans wartime accident memorial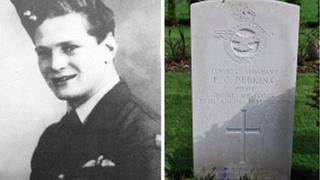 Three wartime airmen killed in a crash during a practice flight in Gloucestershire could be commemorated.
Seventy years ago, the Avro Anson plane carrying the three crew members crashed 25 minutes after taking off from RAF Staverton on a practice bombing flight.
The site, now Gloucestershire Airport, is hoping to erect a permanent memorial for this and other accidents.
Airport bosses would like to establish a definitive history before creating a memorial and are appealing for help.
'Ultimate sacrifice'
On 24 August 1942, the twin-engined Avro Anson aircraft struck high ground at Stockend Wood, north of Stroud.
The three killed were pilot Sgt Edward Perkins, 20, Leading Aircraftman (LAC) Lawrence Roper, 29 and LAC Brian Cross, 21.
Sgt Perkins and LAC Roper are buried at Gloucester cemetery and LAC Cross is remembered on the cloister panels at Cheltenham crematorium.
Darren Lewington, from the airport, said: "We would like to establish a definitive history before erecting a permanent memorial at the airport for those who made the ultimate sacrifice while serving at Staverton.
"We are proud of our RAF past and believe it should be commemorated. We'd be keen to hear from anyone who can help us to piece together the history jigsaw.
"We know there were a number of accidents during the war years and further service personnel killed in enemy raids on the airfield."
Mr Lewington added that RAF Staverton was principally the base of No.6 Air Observer and Navigation School.
"The unit trained many hundreds of aircrews from around the Commonwealth who went on to serve with such great distinction in Bomber Command."