Gloucestershire hospitals' temporary nurse bill over target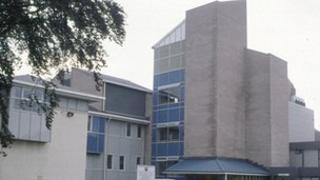 A bill for temporary nurses at Cheltenham General and Gloucestershire Royal hospitals has been hundreds of thousands of pounds over target.
Figures show that in April, Gloucestershire Hospitals NHS Foundation Trust spent nearly £400,000 more than planned.
The trust's target for spending on temporary staff for April 2012 was £484,000, but it spent £860,000.
The NHS trust said it had recently recruited 43 new qualified nurses.
In the first four months of 2012, £2.7m was spent on agency nurses and bank nurses, NHS employees who can provide absence cover at short notice, to cover shifts.
So far this year, over £250,000 a month more than planned has been spent.
The Royal College of Nursing (RCN) said it was worried that the cost was going to go up even more, because some nurses were considering leaving the NHS to join agencies due to possible changes to their pay and conditions.
'Annual leave'
Gloucestershire Hospitals NHS Foundation Trust said in a statement that it was committed to maintaining staffing levels.
"This means that sometimes we need to utilise bank and agency staff to cover annual leave, maternity leave and sickness as well as filling short-term vacancies," the trust said.
"Our emergency admissions are currently 11% higher than expected and we have opened additional beds to manage this increased demand.
"In order to staff these beds we have on occasion had to rely on agencies to provide the nursing cover required to ensure the safety of our patients."
The spokesman said the trust had recently recruited 43 new qualified nurses, 29 Healthcare Assistants (HCAs), 16 apprentice HCAs and HCAs for Maternity and Paediatrics.
It would be interviewing for Theatre Healthcare Assistants later this week.
"We have also recruited 12 registered nurses for the Emergency Department and also registered nurses in Maternity, and this investment demonstrates our commitment to developing and maintaining our workforce," the spokesman added.