Housing plan for Bishops Cleeve area sparks court battle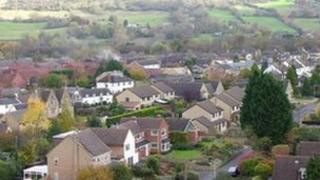 Plans for more than 1,000 new homes in Gloucestershire are to to be challenged in the High Court.
Developers have been given planning permission for two developments - one at Homelands Farm, the second at Cleevelands, close to Bishops Cleeve.
The plans had been rejected by Tewkesbury Borough Council, but the developers appealed and a planning inspector said they could go ahead.
Earlier the council confirmed papers have been lodged with the court.
Councillor Derek Davies said a senior planning barrister had advised the authority that there is a "strong case" to challenge the secretary of state's decision.
"There is an overarching principle in planning that requires policy to be interpreted and applied in such a way that is consistent with the reasons behind that policy.
"We feel that the secretary of state has failed to apply this principle in this case," he added.
For more than a decade nearby residents have been fighting the development, saying it narrows the gap between Cleeve and Gotherington and that the local infrastructure cannot cope, although some do accept more "affordable" homes are needed in the area.
The two packages of land - one at Homelands Farm 2, the other at Cleevelands - could see about 1,000 new homes built alongside the 450 homes currently being put up at the site known as Homelands 1.
It is believed Tewkesbury Borough Council will argue the authority is working on a housing plan - which is not yet finished - and that the planning inspector should have given its draft proposals more thought before making his decision.
The village of Bishops Cleeve lies at the foot of Cleeve Hill, the highest point in the Cotswolds.