Gloucestershire baby death inquest records open verdict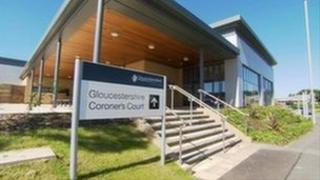 An inquest into the death of a baby girl in Gloucestershire seven years ago has resulted in an open verdict.
The coroner's court was told that the two-month-old died in 2005 from what is thought were non-accidental injuries.
Examinations showed she had several broken ribs and bruising to the head, but a pathologist was unable to determine the cause of death.
The coroner apologised for the delay, saying it was unacceptable, but a reason as to why was not given.
In December 2005 an ambulance was called to her home because she had stopped breathing.
She was taken to Gloucestershire Royal Hospital but doctors were unable to save her life.
Cot death was suspected at the time until a post-mortem test found the injuries to her body.
'Insufficient evidence'
Gloucestershire Police said in a statement that a full investigation had been carried out following the girl's death.
"Three people were arrested during the course of the investigation and a full file of evidence was submitted to the Crown Prosecution Service," it read.
"It was not possible to prove the culpability of anyone in her death. Other offences including child neglect were also considered.
"The CPS advised and we accepted that there was insufficient evidence to take a case to court. All three people were subsequently released from their bail."
The force added it was "extremely regrettable" that no-one had faced charges over the baby's death and said there were no further lines of inquiry that could be undertaken.
Assistant deputy coroner Tom Osborne recorded an open verdict but called for a review to be held into procedures regarding urgent child protection conferences.
The Coroner's Service has also said that it was "with regret" that some cases are subject to extra delay.
"For this we apologise to the relatives and others who have been adversely affected by the extra delay," read a statement.
The baby girl's grandparents, who were the only members of family in court, declined to comment.
Roger Clayton, who chairs Gloucestershire Safeguarding Children's Board, said it was a "very sad case".
"Following her death, detailed reviews were carried out and these made it clear that none of the agencies involved could have predicted or prevented it," he said.
"A recent Ofsted inspection of safeguarding affirmed that the right framework is in place for all agencies who work with children to identify those at risk and take action to keep them safe."