Gloucestershire water rescue team crowned UK best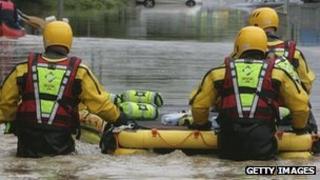 An emergency water rescue team from Gloucestershire has been praised after being crowned the best in the UK.
The three-man crew, which represented the county's Water Rescue Centre in Tewkesbury, beat 140 teams across a two-day UK Fire Service competition.
Gloucestershire's Chief Fire Officer Jon Hall said he was very proud of the team which "quite simply led the way".
The UK Fire Service meets every year to practice and develop its rescue skills with a conference and competition.
'Stiff competition'
Challenges faced by the team were designed to demonstrate best practice for vehicle extrication, trauma care, rope rescue and boat handling.
Mr Hall said: "I am so very proud of the crew's performance.
"They were up against some stiff competition from the likes of London Fire Brigade and hosts Lincolnshire Fire and Rescue and did more than hold their own - they quite simply led the way and showed just how good a dedicated part-time and volunteer rescue team can be."
Two members from Gloucestershire Fire and Rescue Service - Phil Ryan and Adrian Lawman - formed the team, along with Ben Peachey, a volunteer from Severn Area Rescue Association (SARA).
The partnership between the two organisations, which are jointly based in the Tewkesbury centre, was created a year ago and is believed to be the first of its kind in this country.
Chris Crowley, a trustee of SARA, said: "I am absolutely as proud as punch to be involved with these guys.
"We've been with them a year now and we've moved a long long way forward.
"Their professionalism has rubbed off on us, and some of our boat-handling skills, as Saturday proved, have rubbed off on them."
Councillor Will Windsor-Clive, the cabinet member responsible for community safety at Gloucestershire County Council, said: "We knew we were breaking the mould when we established this rescue centre.
"I'm just delighted that the whole community can now see what can be achieved with a partnership such as this."