Gloucester City FC stadium plan 'should be welcomed'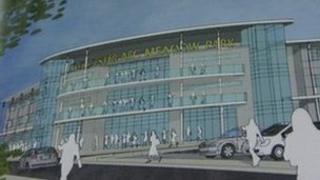 Plans to rebuild a flood-damaged football stadium "should be generally welcomed", Gloucester City Council officers have said.
Gloucester City FC's ground at Meadow Park was submerged during flooding in 2007 and has been shut since.
The new non-league ground would be built within the boundaries of the old stadium.
But planning officers have asked for further work to ensure that the ground is not hit by flooding again.
The officers said the defences should be "fully constructed and operational prior to the commencement of any development".
They added any scheme should be carefully constructed to ensure neighbouring properties were not affected.
The council received 16 letters objecting to the development - mainly about road access to the site and developing on a flood plain - and 128 letters in support.
Since 2007 Gloucester City has played home games at the grounds of Forest Green Rovers, Cirencester Town and Cheltenham Town.
A meeting on 4 September will see councillors decide whether the new stadium can be built.