Defibrillator plan for heart attack footballer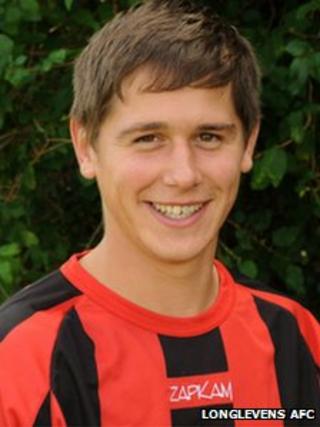 A non-league footballer who collapsed during a match in Bristol could have a personal defibrillator fitted.
Mark Moore, 27, from Gloucester, suffered a cardiac arrest a week ago and was saved by a team of paramedics playing on a neighbouring pitch.
Doctors are planning to fit the life-saving device - the size of a mobile phone - beneath his ribs.
Longlevens FC manager James French said the player's recovery during the past week had been "remarkable".
He added Mr Moore had been given a lot of support through social media.
"He woke up with something like 400 Facebook notifications and just as many Twitter messages as well," he said.
'Full of life'
"He's been trying to reply to as many as he could from his bedside and it keeps him in good spirits.
"He's full of life and he's always on his phone. When I was with him on Saturday night he could hardly put his phone down."
Mr Moore was playing in a match between Southmead and Longlevens in the Gloucestershire County League Cup when he collapsed.
Mr French said the player's memory of the night was "a blur" and he could only remember "little bits of the game itself".
"When he first woke up on Thursday he was very confused and his last memory was from about two-and-a-half weeks ago," he added.