'Incredibly harmful' acid chemicals stolen in Forest of Dean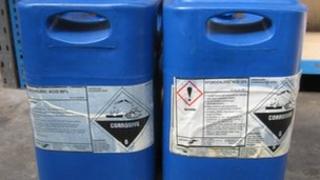 "Incredibly harmful" chemicals have been stolen from a business in the Forest of Dean, police have said.
The Gloucestershire force said two drums containing hydrochloric acid and sulphuric acid were taken from a business in the village of Whitecroft.
Both drums were 30 litres each in size. An unknown quantity of potassium cyanide may also have been stolen.
A local man, 18, was arrested at 14:15 BST on Wednesday on suspicion of burglary in connection to the incident.
He currently remains in police custody.
The incident occurred overnight between Tuesday and Wednesday.
Police said both drums of acid were "clearly labelled" outlining their contents. It is not known how the potassium cyanide was packaged, although it looks like "white processed sugar".
They said the substances may have been discarded in either the Whitecroft or Pillowell areas of Lydney.
They are warning the public not to touch the barrels - which could give off an unusual smell - if found and to "move away and immediately call the police".