Connors trial: Worker on £10 a day for 18 years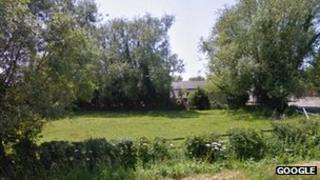 A man was forced to work for £10 a day for five members of a travelling family for 18 years, a court heard.
Bristol Crown Court has heard how men were forced to work in Gloucestershire, Leicestershire and Nottinghamshire.
In court, Alexander Gourlay, 54, said he was also forced to live in caravans or sheds with other men.
William Connors, 52, Brida (Mary) Connors, 48, their sons John, 29, and James Connors, 20, and son-in-law Miles Connors, 23, deny the charges.
'Forage in bins'
Mr Gourlay described how the family, who are from Gloucestershire, would be taken to traveller sites around the country to do work for them.
He would also have to forage in bins at supermarkets for clothing and use a bucket or woodland for a toilet.
He said he was first picked up from a YMCA hostel in Birmingham by William Connors - also known as Billy - where he was offered a job.
Via videolink, he said: "He said he would pay me £20 a day. As weeks, months and years went by, something happened.
"He had lowered the wage. All we got was a tenner a day."
Mr Gourlay also told how William Connors would hit him with "a wooden rake, sometimes a broom and sometimes a fist".
'Too scared'
The witness also said he saw William Connors hit fellow workers Tim Howley and Craig Sivier using spades and shovels.
When asked why he and the other workers did not retaliate, he said: "I don't know. Probably too scared to."
Police carried out a series of raids on travellers sites in March 2011. Mr Gourlay was found in a caravan in Kirk Lane, Enderby, Leicestershire.
Many of the alleged victims were housed in caravans at Beggars Roost site in Staverton, near Cheltenham.
The defendants all deny charges of conspiracy to hold another person in servitude and conspiracy to require a person to carry out forced or compulsory labour
The trial continues.