Cheltenham Borough Council delays decision on rickshaws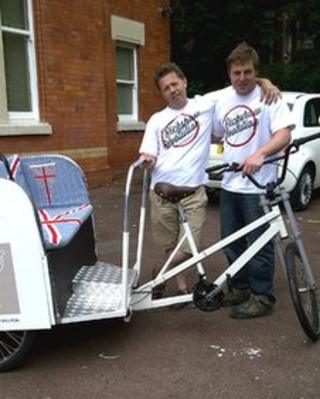 A decision on whether to allow rickshaws in Cheltenham town centre has been delayed by the borough council.
Rickshaw Revolution wants to operate three rickshaws in the town centre and the surrounding area.
But Cheltenham Borough Council said it had deferred the vote until it had more information on public safety.
James Meyer from the firm said he was frustrated, as it had already taken the council seven months to reach this stage and could now take even longer.
Report 'incomplete'
Councillors based their decision on a 14-page document complied by council officers.
But Rickshaw Revolution has said this report was incomplete, as it did not take into consideration research from other UK councils on rickshaw licensing and public safety issues.
Mr Meyer said: "Obviously I am more than frustrated. It also comes from the fact that this is not an attempt to make huge amounts of money - we're not a charity, but we hope we don't lose money.
"It is ludicrous that the council is also asking us to operate in a very small town centre area and to ask for receipts to be given to the council for each journey."
He added that each rickshaw would have a sign saying it would cost £2.50 for every five minutes, but to retain receipts and hand copies to the council was unreasonable.
Mr Meyer is hoping to secure an exceptional meeting in which a new document can be drawn up for councillors at the next cabinet meeting.
'Unique challenges'
Cabinet member, Peter Jeffries, said: "A representative from Rickshaw Revolutions highlighted some issues within the proposed policy and I have agreed to meet with them to discuss those concerns.
"This will sadly delay the process further and at this time it's unclear as to when the report will return to cabinet.
''In principal, cabinet members are supportive of the idea but my priority continues to be that of public safety.
"Rickshaws provide unique challenges in terms of safety as there is no recognised national framework for us as a council to use.''
If the plan is approved, a two-year trial period will take place monitoring issues such as public safety, town centre congestion and traffic flow.