Coroner Alan Crickmore has bail extended in fraud case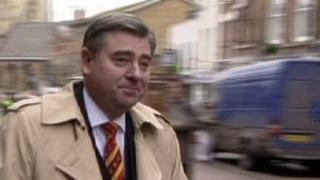 The Gloucestershire coroner has had his bail extended until 27 November after he was arrested on suspicion of fraud, theft and money laundering.
Alan Crickmore was suspended from duty in December 2010 when the Solicitors Regulation Authority began investigating his Cheltenham law firm.
The 56-year-old was arrested last January.
A police inquiry is looking into alleged breaches of the solicitors' code of conduct and accounting rules.
His deputy David Dooley has taken over conducting inquests with the help of two assistants drafted in from other counties.
In July, Mr Crickmore was granted bail until 26 September but police have said he is now not required to report back to them until 27 November.