Gloucester overgrown garden owner fined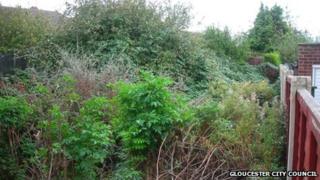 A homeowner who allowed his garden to become overgrown with shrubs and bushes has been fined for failing to cut it back.
Neighbours of Adrian Woodyatt in Longlevens, Gloucester, first complained to the council about the front and rear gardens in October 2011.
The council ordered him to tidy the gardens but the work was not done.
Woodyatt was fined £600 and ordered to pay £2,000 costs by Gloucester magistrates.
He had been charged with failing to comply with the requirements of a section 215 notice requiring various actions to clear and keep tidy the front and back gardens.
Prosecutor Elaine Bell told magistrates the overgrown gardens were at a semi-detached property in Nine Elms Road.
Getting worse
"After carrying out checks it was established the defendant was the owner of the property and a letter was sent on 10 October 2011 requiring him to tidy the gardens of the property and confirm he was the owner of the property," she said.
Miss Bell said Woodyatt never responded and a further letter was sent by the council giving him until January this year to cut back the gardens.
"Due to the detrimental impact upon the neighbouring properties a section 215 notice under the Town and Country Planning Act 1990 was served on 20 January," she said.
"The notice requires specific works to be carried out. By 6 June these works had not been carried out."
Miss Bell said further visits had been carried out by the council and the bushes were seen to be getting worse.
Woodyatt, who lives at another property in the same road, was not present in court and Miss Bell asked District Judge Joti Boparai to find the case proven in his absence.
The judge said: "It is quite clear that having served the notice a number of visits were made and the defendant has been given the opportunity to get his garden cleared.
"In the circumstances I do find the matter proven."