Traffic light switch-off trial on St Margaret's Road, Cheltenham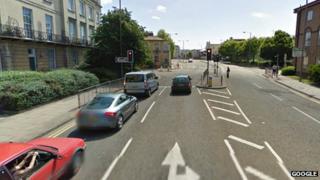 Traffic lights on a street in Cheltenham are to be switched off for three weeks as part of a trial to see if it reduces congestion.
A borough council spokesman said it was believed the St Margaret's Road lights were poorly co-ordinated and encouraged traffic build-up in nearby St. Pauls.
He added that similar trials including those in Portishead, North Somerset, had reported favourable results.
The experiment is due to start on 29 October.
"We've known for a long time that motorists and pedestrians do not enjoy using this road as part of their journey," the spokesman said.
"We welcome any opportunity to consider alternatives and this trial will be a good starting point for this."
"It will be interesting to see what the results are and this will guide a long-term solution for managing traffic in this area," he added.