Gloucestershire Airport runway expansion officially recognised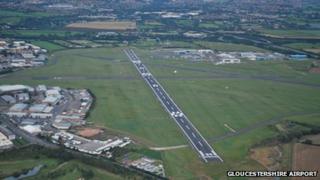 Gloucestershire Airport's extended runway has been officially recognised by the Civil Aviation Authority (CAA).
The expansion, which cost £4m, means aircraft landing at Staverton, between Gloucester and Cheltenham, will soon be able to carry more passengers.
It included the demolition of a three-storey building and the addition of 12m (40ft) of tarmac, to increase landing distances for aircraft by 150m (490ft).
A spokesman said it would "generate additional business" for the airport.
The airport's head of operations, Darren Lewington, said: "The extra runway distances make a huge difference to the operators of the larger aircraft that currently use the airport and will generate additional business for us.
'Extra flights'
Mr Lewington said it would lead to "a handful of extra flights" during weekdays.
"But these aircraft generate significantly higher landing fees and greater fuel sales than the lighter training aircraft," he added.
Opponents to the project claimed it would attract more commercial planes, more noise and increase pollution.
The CAA has recognised the increase in length in its latest publication of UK runway distances.
Mr Lewington said the final stage of the runway safety project would be the installation of an Instrument Landing System (ILS), enabling aircraft to land in bad weather.
"We expect the ILS to be fully functional within the next six weeks and that the CAA will publish the new procedures for it early in 2013, once all the relevant tests and safety checks are complete."
A new entrance road has also been built and a section of nearby brook diverted as part of the project.