Remains found in South Korea are not Gloster soldier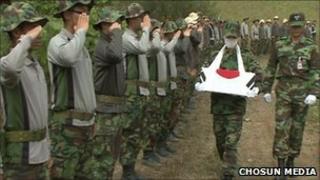 Human remains found in South Korea, thought to be a Gloucestershire soldier who fought in the Korean War in 1951, have been proven not to be European.
Forensic analysis of the remains show they are of Chinese descent, the Service Personnel and Veterans Agency (SPVA) confirmed.
All of the Gloucestershire regiment soldiers that fought in the war at Imjin were of white European descent.
The remains were found in the demilitarized zone in October 2010.
"We appreciate that sadly this outcome is not the one that some people were hoping for," said Sue Raftree of SPVA.
Thorough investigation
Local military began digging in the area close to the border with North Korea after an elderly local man said he had seen a European soldier being buried there 60 years ago.
The eyewitness claimed to have been told at the time of the burial that the soldier was from the Gloucestershire regiment.
British and Belgian forces fought in the region at the Battle of Imjin River in 1951.
The battle was part of the Korean War in which United Nations forces fought with the South Koreans against the North Koreans and the Chinese.
The Battle of Imjin River became famous for the "Glorious Glosters" - members of the Gloucestershire Regiment who famously held off against 10,000 Chinese troops for three nights in April 1951.
It remains the bloodiest battle fought by British forces since World War II.
Following the discovery the MoD asked for the remains to be sent to the Joint Prisoner of War / Missing in Action Accounting Command (JPAC), a US facility based in Hawaii, to try to establish the individual's origin using scientific testing methods.
The outcome of the tests have now been received and it has been confirmed the remains are of Chinese descent and not European.
"We can now close the case knowing that a full and thorough investigation has been carried out," said Sue Raftree.
The UK's Joint Casualty and Compassionate Centre, based at RAF Innsworth in Gloucester, has notified the Gloucester Regiment and other interested parties of the development.