Westonbirt Aboretum's '1,000-year-old tree' cut back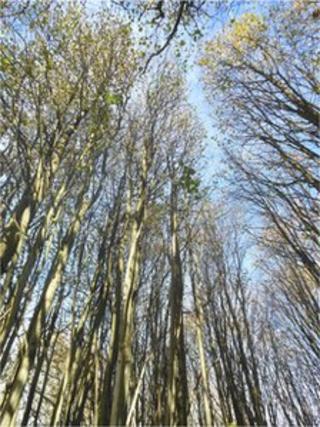 A tree, thought to be more than 1,000 years old, is to be cut back for the first time in over 20 years.
The ancient small-leaved lime tree at Westonbirt Arboretum, Gloucestershire is to have 60 stems coppiced or "cut back to stumps".
The Forestry Commission said DNA tests were carried out on the tree when it was last coppiced in the 1990s.
"Experts agreed - it was certainly ancient, and could be up to 2,000 years old," a Westonbirt spokeswoman said.
Historical records, according to a spokeswoman for the arboretum, show "traditional coppicing methods have been used in Westonbirt - since at least the 13th Century".
"The practice of periodic coppicing has actually helped the tree - one of Britain's oldest trees - to live this long," she said.
'Kept lime alive'
Mark Ballard, the arboretum's curator, said cutting back the lime stems also encouraged "new growth".
"It is what has kept this original lime alive for so many centuries," he said.
"Coppicing is not only good for the tree, it also benefits wildlife; particularly woodland flora as regular opening of the canopy allows sunlight to reach the woodland floor.
"Our team will work with a group of professional coppicers and volunteers to carry out this important work."